Together We Are One
This article is dedicated to Handmade Korea Fair, Lucia Choi with other 11 friends from overseas who joined this event, and to all of our friends, fans and followers who gave us big support.
Handmade Korea Fair 핸드메이드코리아페어 - a 4-days event with slogan "All that handmade is here!", being held on 21-24 July 2016, at COEX Hall B, Seoul - S.Korea.

I was longed to join HMK (Handmade Korea Fair) but always missed the opportunity until early this year when my friend, Lucia expressed her idea about this collaborative booth: 루시아와 만나다 "Meet Lucia: Lucia & Friends". We're very happy to have this opportunity and worked hard to prepare this event for months. Other than me (Cindy Kuo) from Indonesia, Lucia also invited her friends: Tomimoto Seiei, Chikako Takasuka, An Sora, Maki Manabe, Yoko Saito, Toyomi Itohara and Yasue Okanishi from Japan, Wai Yeung Li from Hong Kong, Marc Mangin from France, and Xin Cheng from New Zealand.
Lucia Choi 최루시아 from Seoul, Korea
A Korean calligraphist who has many years of experience in writing letters and performed her calligraphy moves in numerous stages. Under her brand "붓터치 Boottouch", she is a calligraphy teacher for foreigners and in several university in Korea.
Lucia's hand also appeared in an episode of MBC drama 화려한 유혹 "Glamorous Temptation". Other commercial such as 좋은데이 (meaning "Good Day") is a famous soju brand in Korea, which letter is written by Lucia. I've seen many faces get shocked when she introduced herself! XD
In these four days, Lucia always introduced our stories to the public, as we're from different countries and not that good at Korean language (Thanks Lucia! XD).
Tomimoto Seiei 富元清英 from Tokyo, Japan
A traditional Japanese instrument: goto (箏) player, a lovely sensei who always smiles. Every month Tomimoto sensei holds a workshop at the cultural center of Japanese Embassy Public Affair. Tomimoto sensei and Lucia had collaboration and performed with her 三味線 (shamisen) three times in HMK and gained many applause from the public. What a great performance!
Chikako Takasuka 高須賀千賀子 from Osaka, Japan
A Japanese calligraphist who often collaborate her Kanji letters with Lucia. Chikako sensei is very cheerful, adventurous and a truly learner. At the age of 60, Chikako sensei took a Korean language study at Yonsei Language Institute. In her, I learn a Chinese proverb: "活到老,學到老" which means: One is never too old to learn.
An Sora 안소라 from Kobe, Japan
A book writer who has published several books about everything you need to know when travelling to Osaka. An Sora often travels between Japan and Korea. Every year she participates in book festivals in both countries. Rather than that, she was also a host in Kobe radio FM in program "Hello".
Maki Manabe 万喜眞鍋 from Yokohama, Japan
Under her brand "Aloha Bear", Maki creates variety of cute and colorful handmade plush toys such as: teddy bear, monkey, pig, rabbit, etc. in Hawaiian style. She always brings her creation to wherever she goes, actively develops her brand and does some workshops in Korea as well. Maki-san, next time please teach me how to stitch a teddy bear...
Yoko Saito 齋藤陽子 from Sendani, Japan
Yoko makes journal diary in both Japanese and Korean languages. She shares her experiences while travelling to Korea in 2015, pictures her feelings and thought in writings and cute illustrations. She greets everyone with smiles while introducing her works. :)
Toyomi Itohara 糸原とよみ from Kyoto, Japan
A middle school teacher in Japan who has been learning Korean language for eight years. Her interest towards Korean culture brings her to enter crafting world. And this time, Toyomi brought some of her latest works and share them with Korean friends.
Yasue Okanishi 岡西泰永 from Nara, Japan
Yasue loves photograph. She loves to take pictures with film photography rather than digital, because with film, every shot is measured and taken carefully. Yasue mostly takes photo of beautiful scenery and also the smiles of close friends and family on occasion. In her smiling face, you can feel the positive vibes while talking with her. Go Yasue!
Wai Yeung Li 李偉洋 from Hong Kong:
Wai Yeung is a graphic designer who also does illustration in Hong Kong style. He poured his talent under the brand "啊羊繪記 YeungDraw", where he develops his drawings in postcards taken from movie scenes. During the fair, he offered life drawing portrait sketches and the response were more than expected! Wai Yeung was just busy sketching all the time...
Marc Mangin from France
A French photographer who has traveled to many places including South Korea. Marc shots which contain with natural beauty are compiled together and published in his photo book: "South of the Border".
Xin Cheng from New Zealand
Xin Cheng came to Seoul through Nanji Art Studio residency program as an exchange artist from New Zealand. She expresses her arts through the collection of waste things. Her extraordinary talent with nature mind makes her performance more impressive and outstanding!
And lastly, me - Cindy Kuo from Jakarta, Indonesia
I am a handcrafted jewelry designer under my brand "Tree Craft Diary" which was established in 2012. By utilizing one of the earth materials – stones and crystals, Tree Craft Diary emphasizes their natural characteristics, embraces the fusion of fashion and nature, thus, creatively crafts them with unique attributes to create jewelry with a story. Although I've been participating many craft fairs in different countries, but in this fair, I gained so so much valuable experiences.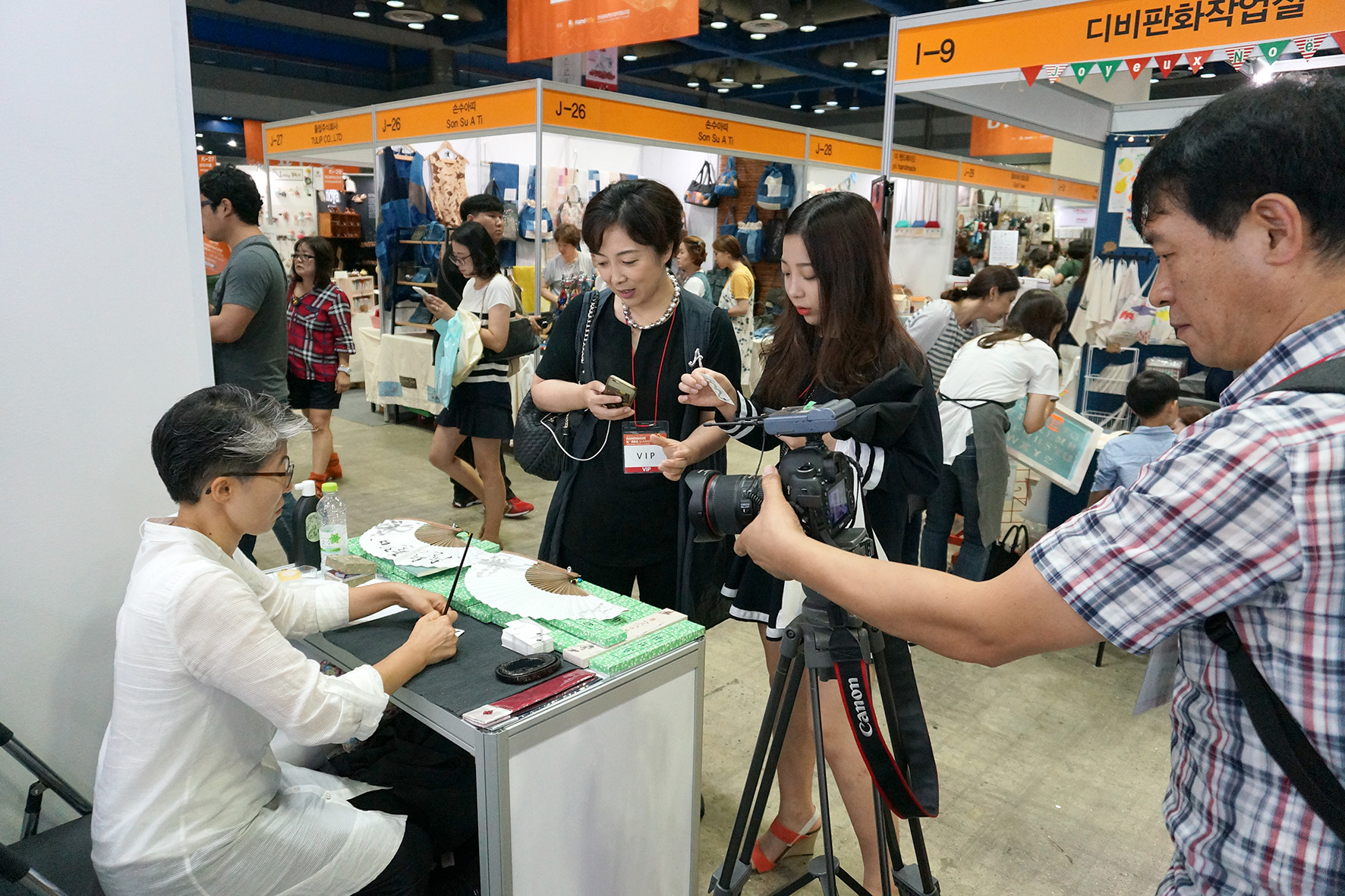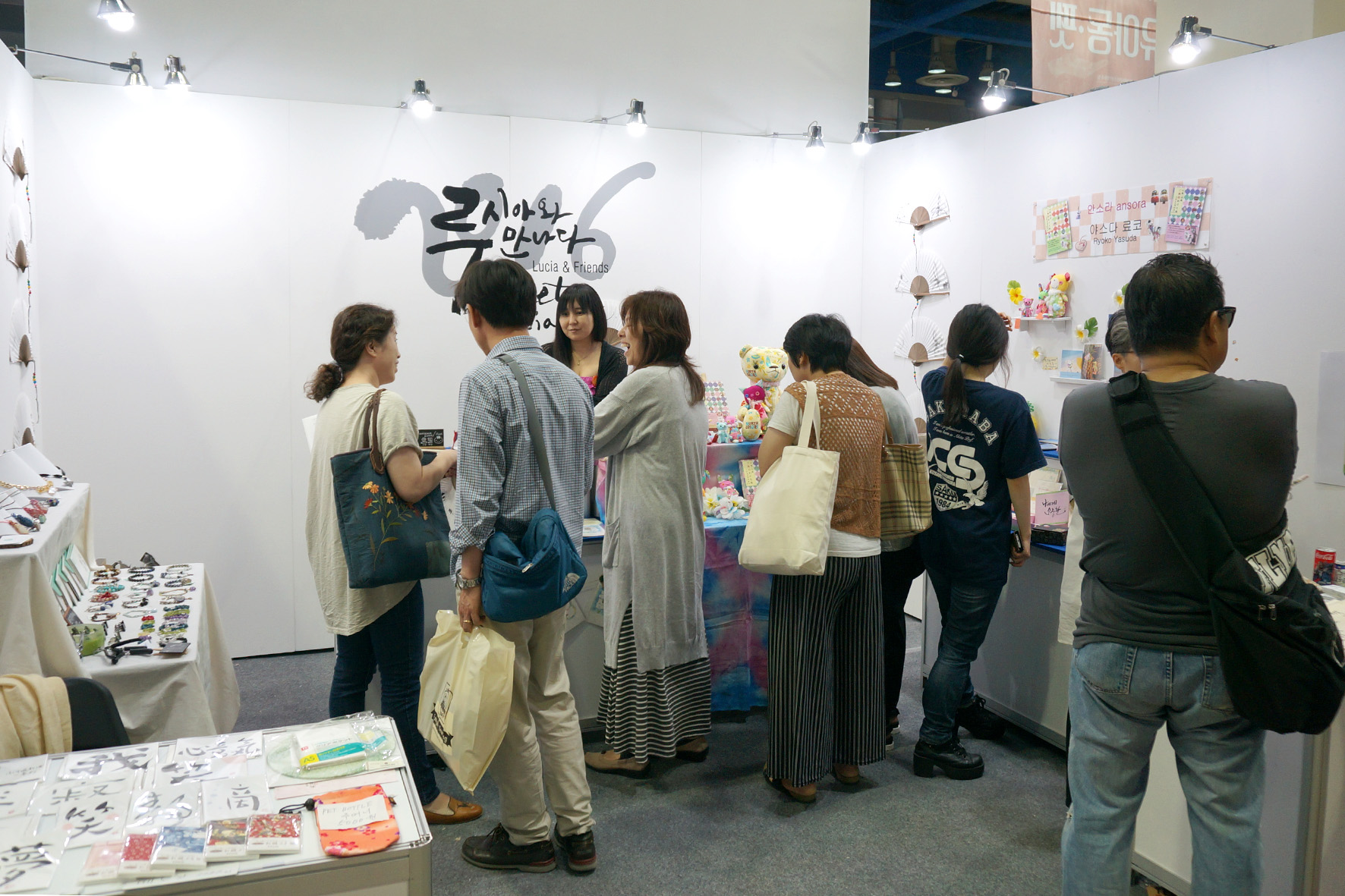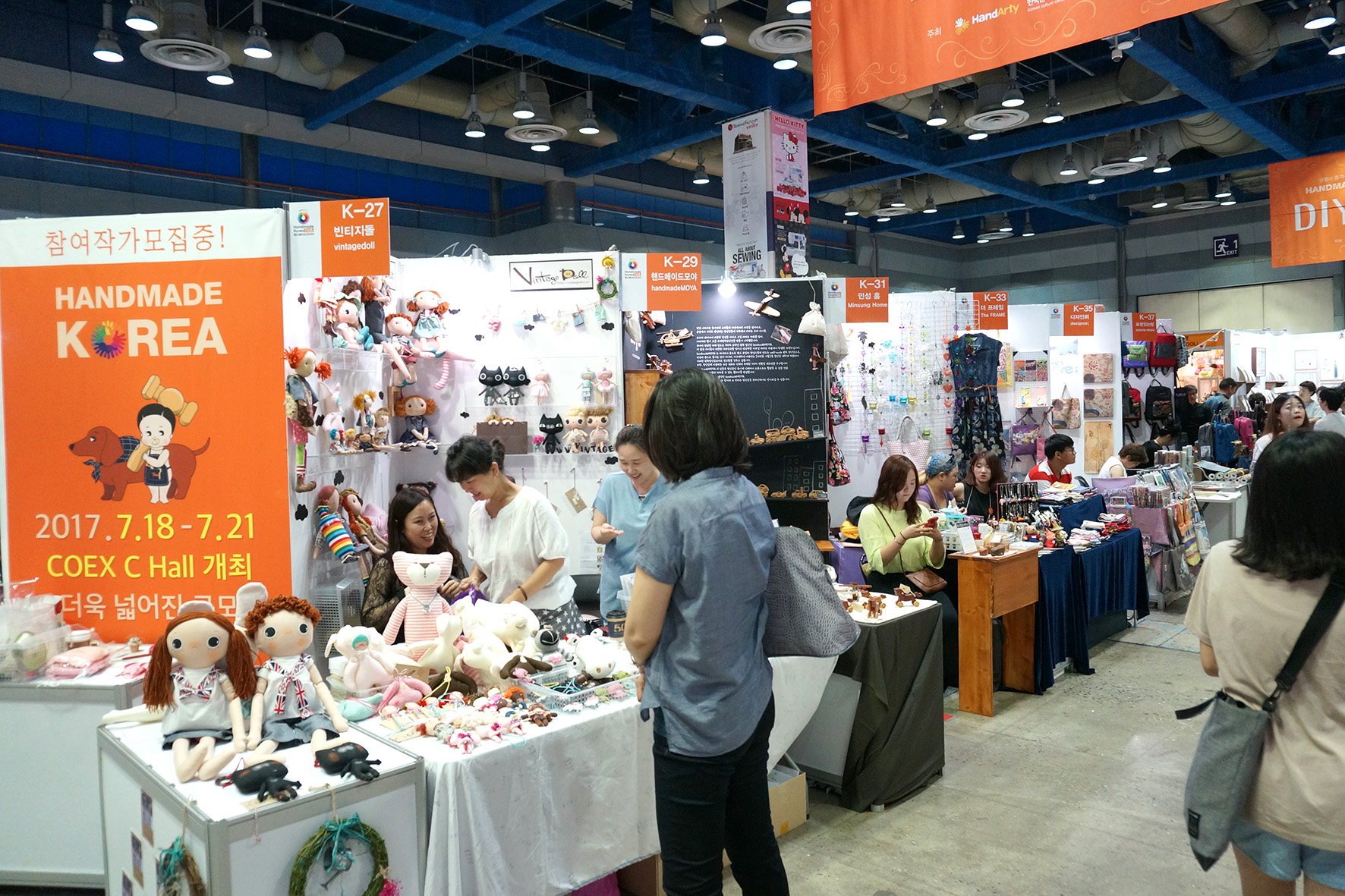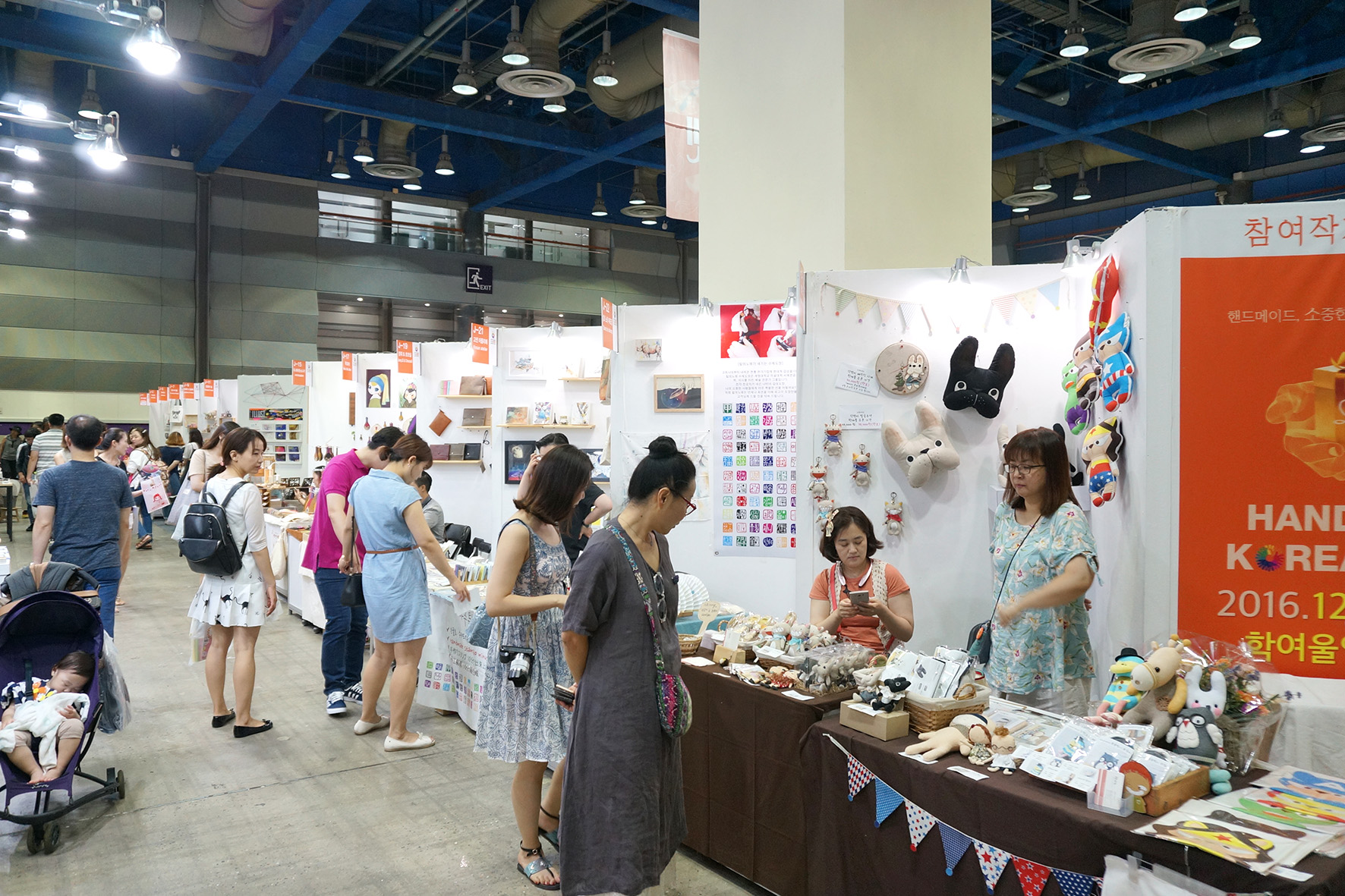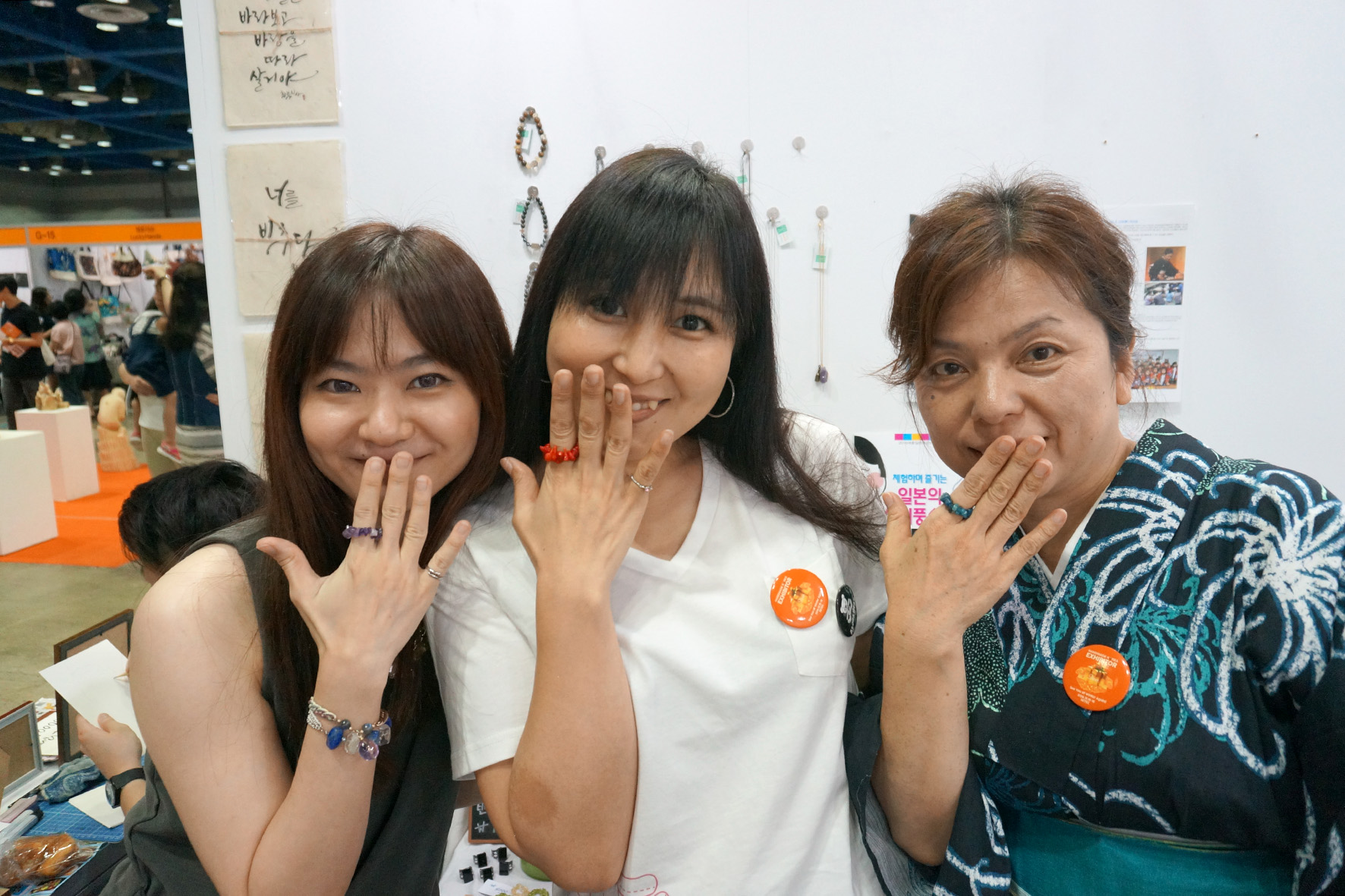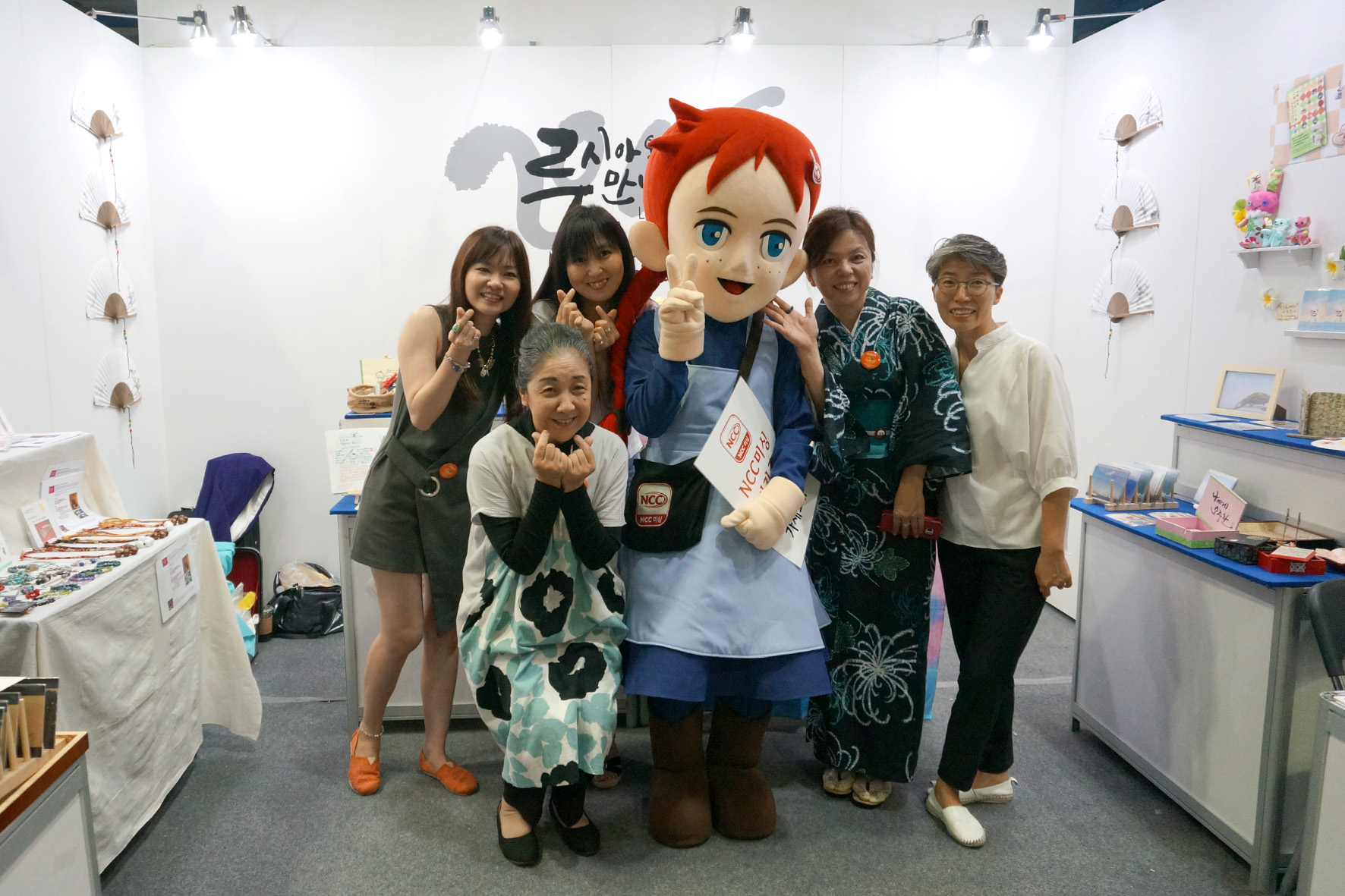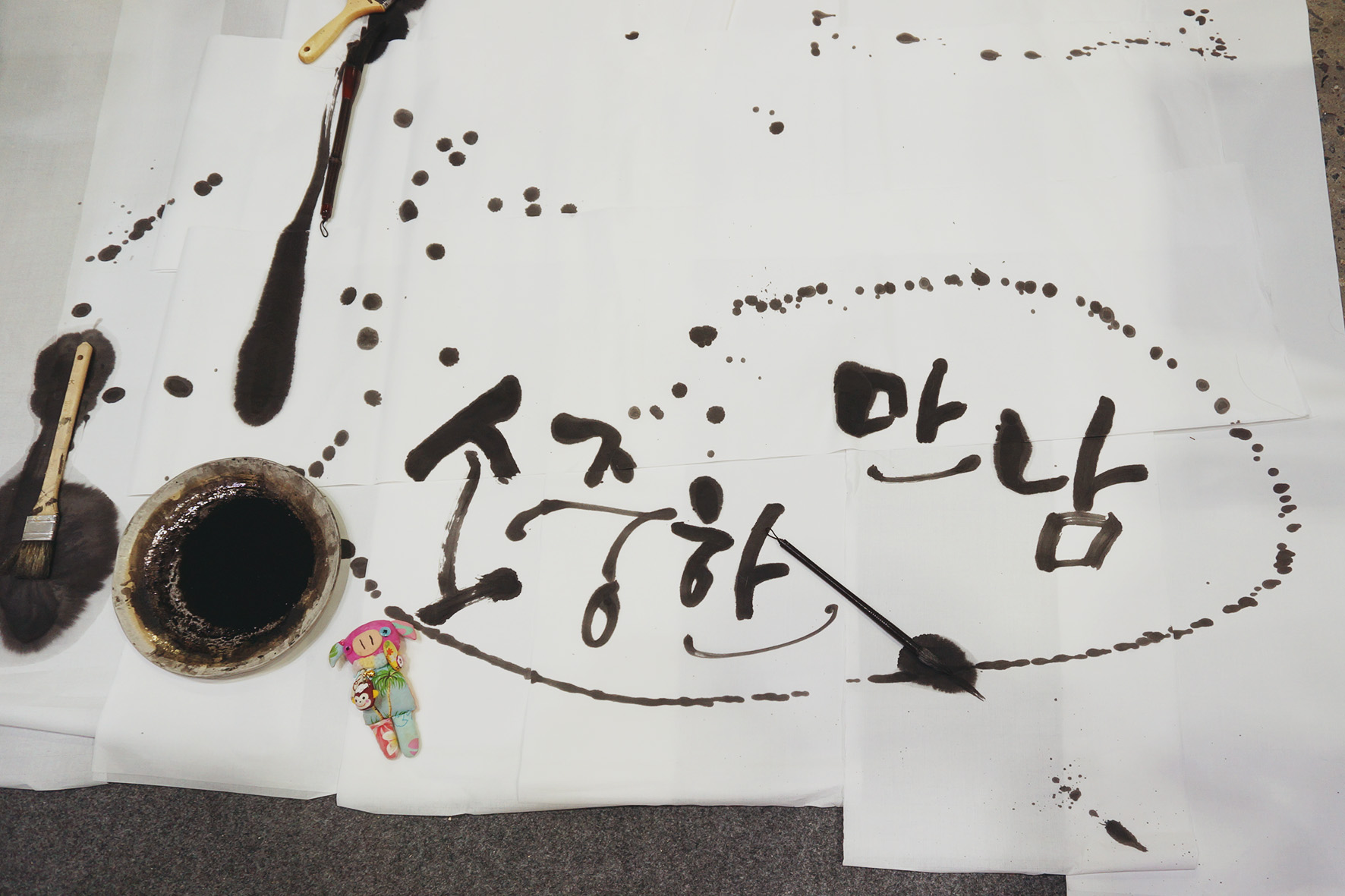 This might be our first meeting for some of us, but we share the same values and perspective. Every morning we cheered each other to hope for the best. We invited our friends and introduced them to one and another. We gave applause when someone made a sale. We took a break by joking, laughing and taking pictures, and ended the day with a nice dinner gathering. We knew this opportunity is rare and we wanted to make the most of it.

We are artists from Korea + Japan + Indonesia + Hong Kong, with language being used: Korean + Japanese + English + Cantonese + Mandarin. We spread this interesting collaboration event through mouth to mouth and social medias. Even many press visited our booth to record our stories!

Therefore, from the bottom of our heart, we would like to thank Handmade Korea Fair for this great opportunity. Once we're back to our own countries, we will work harder and hopefully meet again to gather our strength in another time!
Above illustration is credited to Wai Yeung Li, specially sketched for Lucia & Friends :)
루시아와 만나다 "Meet Lucia: Lucia & Friends" ended safely with lots lots lots of fun and good memories!
This is our story: Together We Are One